I had an idea. If Clash of Clans has a single-player campaign, Clash Royale could have one too. But here I mean a proper campaign with bosses, rewards and everything.
Mechanics
The Single Player mode would have an Arena Select screen, with the twelve (Training Camp -> Legendary Arena) Arenas on it. These Arenas would be grayed-out when locked and would be coloured once unlocked. Then, clicking an Arena would take you to a typical level map with each different level being represented by a circle.
A Single Player level would mainly be made of battles with a few missions in-between. Some non-mission Single Player levels, however, would have enemies at the start that would need to be cleared first, and could even have different troops in the towers. They would all give rewards based on your current Arena.
Single Player would take up its own screen, and there would be new quests for it. Each new level would always take a certain amount of time to unlock too, so that you don't speed through the campaign in a day.
As a bonus, special "Master Levels" could be unlocked, which are harder versions of regular levels which give slightly better rewards.
The Campaign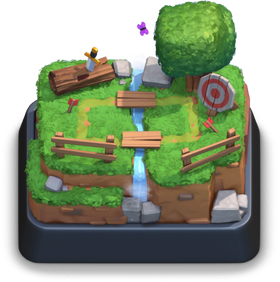 The Training Camp would feature 15 levels, with 5 missions and the boss battle taking place on Level 16. It would also have one Master Level as a smooth introduction.
Tasks
Level (King Level)
Deck
Rewards
Battle
1 (1)