This is a test!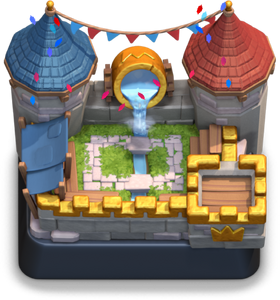 Summary
Royal Arena is the seventh Arena in the game.
It appears to be a green area with a river cutting across the Arena. The Arena seems to be surrounded by castle walls with golden ramparts and red and blue-roofed towers. A small stone path is carved out. There are two bridges crossing the river.
The Royal Arena is reached at 2000 Trophies, and left upon going below 1950 Trophies.
It unlocks eight new cards.
Cards
Eight cards can be found in the Royal Arena. There are two Commons, two Rares, two Epics and two Legendaries. These cards can be found out of Chests in this Arena and above. A Legendary Chest, however, has a chance of unlocking any Legendary regardless of the Arena.
Old Cards
When Royal Arena was Arena 6 unlocked at 1700 Trophies, it had different card unlocks. There was one Common, one Rare and one Epic.
History
On 29/2/16, the March 2016 Update introduced Builder's Workshop at 1700 Trophies, and pushed the lower limit of this Arena to 2000 Trophies. Builder's Workshop became the new Arena 6 while Royal Arena and Legendary Arena became Arenas 7 and 8 respectively.
These Trainers can be battled in Royal Arena's trophy range.
Statistics
| Trainer Name | King Level | Trophies Required | Deck |
| --- | --- | --- | --- |
| Trainer Arnold | 7 | 2000 | |
| Trainer Bashful | 7 | 2100 | |
| Trainer Dent | 8 | 2200 | |
Trivia