This is a test!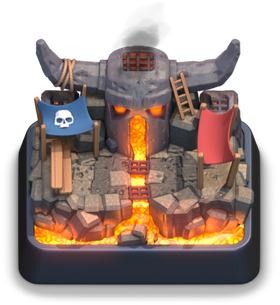 Summary
P.E.K.K.A.'s Playhouse is the fourth Arena in the game.
It appears to be a dark stone area with a magma river cutting across the Arena. There are blue and red flags on either end, and a P.E.K.K.A. statue pumping out magma. A small darker stone path is carved out. There are two bridges crossing the river.
The P.E.K.K.A.'s Playhouse is reached at 1100 Trophies, and left upon going below 1050 Trophies.
It unlocks eight new cards.
Cards
Eight cards can be found in the P.E.K.K.A.'s Playhouse. There are two Commons, two Rares, two Epics and two Legendaries. These cards can be found out of Chests in this Arena and above. A Legendary Chest, however, has a chance of unlocking any Legendary regardless of the Arena.
These Trainers can be battled in P.E.K.K.A.'s Playhouse's trophy range.
Statistics
| Trainer Name | King Level | Trophies Required | Deck |
| --- | --- | --- | --- |
| Trainer Brock | 5 | 1100 | |
| Trainer Clemont | 6 | 1200 | |
| Trainer Grumpy | 6 | 1300 | |
Trivia
The P.E.K.K.A.'s Playhouse unlocks one P.E.K.K.A.-related card.
This Arena unlocks Freeze, which contrasts with the Arena's fiery theme.
It is the first Arena to unlock Legendaries.
This Arena is the second Arena to have something instead of a usual river. It has a magma river instead.