This is a test!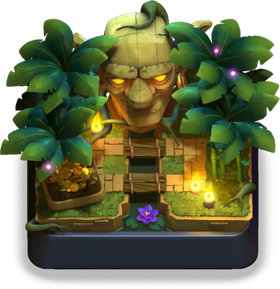 Summary
Jungle Arena is the ninth Arena in the game.
It appears to be a green jungle area with a river cutting across the Arena. The Arena has a gold stash, a Goblin statue and a lot of tall trees. A small yellow path is carved out. There are two bamboo bridges crossing the river.
The Jungle Arena is reached at 2600 Trophies, and left upon going below 2550 Trophies.
It unlocks five new cards.
Cards
Five cards can be found in the Jungle Arena. There is one Common, one Rare, one Epic, one Legendary and one upcoming card. These cards can be found out of Chests in this Arena and above. A Legendary Chest, however, has a chance of unlocking any Legendary regardless of the Arena.
History
On 15/12/16, the December 2016 Update introduced a new Arena, Jungle Arena, at 2,600 Trophies, that was later released on 13/1/17. Legendary Arena became Arena 10 while Jungle Arena took its place as Arena 9.
These Trainers can be battled in Jungle Arena's trophy range.
Statistics
| Trainer Name | King Level | Trophies Required | Deck |
| --- | --- | --- | --- |
| Trainer Snow | 8 | 2600 | |
| Trainer Sleepy | 9 | 2700 | |
| Trainer Freeze | 9 | 2800 | |
| Trainer Jason | 9 | 2900 | |
Trivia
The Jungle Arena has two ice-related Trainers although the previous Arena (Frozen Peak) is ice-themed.

This is likely because before Jungle Arena was added, this Trophy range was still Frozen Peak.