This is a test!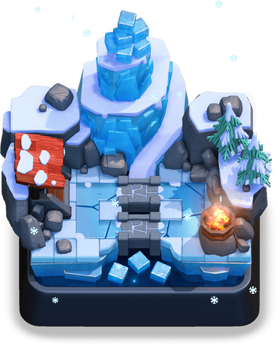 Summary
Frozen Peak is the eighth Arena in the game.
It appears to be an icy blue area with a river cutting across the Arena. The Arena has a small red-topped cottage and torches around it, with a tiny spiraling snow capped hill next to it. A small dark blue ice path is carved out. There are two stone bridges crossing the river.
The Frozen Peak is reached at 2300 Trophies, and left upon going below 2250 Trophies.
It unlocks seven new cards.
Cards
Seven cards can be found in the Frozen Peak. There is one Common, one Rare, two Epics, two Legendaries and one upcoming card. These cards can be found out of Chests in this Arena and above. A Legendary Chest, however, has a chance of unlocking any Legendary regardless of the Arena.
History
On 4/7/16, the Tournaments Update introduced a new Arena, Frozen Peak at 2300 Trophies. This would take Legendary Arena's place to become the new Arena 8 while Legendary Arena became Arena 9.
These Trainers can be battled in Frozen Peak's trophy range.
Statistics
| Trainer Name | King Level | Trophies Required | Deck |
| --- | --- | --- | --- |
| Trainer Marvin | 8 | 2300 | |
| Trainer Sneezy | 8 | 2400 | |
| Trainer Whisker | 8 | 2500 | |
Trivia
The Frozen Peak introduces two ice-themed cards.