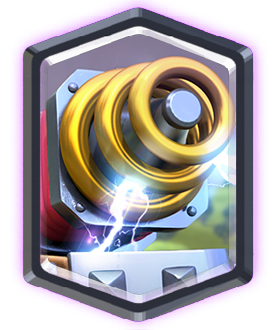 "Sparky slowly charges up, then unloads MASSIVE area damage. Overkill isn't in her vocabulary."
Summary
The Sparky is unlocked from the Builder's Workshop (Arena 6) or a Legendary Chest.
She is an area damage, medium-ranged troop with high hitpoints and very high damage.
A Sparky card costs 6 Elixir to deploy.
The Sparky takes the appearance of a siege machine with a tesla coil mounted atop of it.
Strategy
History
Trivia
There is a loading screen hint that directly refers to the Clash Community's nickname for her. Calling Sparky "trash can on wheels" hurts her feelings. This may suggest that Sparky is a sentient being.
Its tip resembles a level 7 Hidden Tesla from Clash of Clans placed on a wooden cart with wheels wheels. The same tip appears on top of the Level 7 Clash of Clans Laboratory.
When fully upgraded, she deals the highest damage per hit of any card in the game, at 1,898 damage.

Even a level 1 Sparky deals more damage per hit than the level 8 Balloon, the previous record holder of highest damage per hit of any troop, with 1,300 damage as opposed to the Balloon's 1,158 damage. A level 1 Sparky even deals more damage than a maxed mirrored Balloon, (level 9 Balloon) which does 1,272 damage.
However, Sparky has a thoroughly average damage per second due to her hit speed, which is tied for slowest alongside the Mortar and she also has the slowest attack speed of any troop.
Sparky can destroy an Arena Tower, provided the tower is 1 level below its own level, in one shot. In fact, at max level, the Sparky can destroy a level 5 tower in 1 shot.
The Level 6 Sparky (obtained via Level 8 Mirror) does 2,080 damage per hit. This currently makes it the only card capable of doing more than 2,000 damage in one hit.
A Sparky does even more damage than an equivalent level Rocket, the previous record holder of highest damage per hit of any card. Ironically, she cannot survive one.

She is currently the only card who has had her description changed three times.
She is tied with the Princess for having the widest splash radius of any troop, at 2 tiles. However, she has a 3.5 tile splash graphic.
An enemy Sparky always drops her wheel when killed. The other troops that drop items are the Knight, the Mega Minion, the Dark Prince, the Guards, the Executioner and the Cannon Cart. Strangely, when the player's Sparky dies, she drops nothing.
She is one of the eleven cards who are cheered for by the audience upon spawning and booed when killed, the others include Electro Wizard, Lava Hound, Royal Giant, Giant Skeleton, P.E.K.K.A., Giant, Night Witch, Bowler, Inferno Dragon, and Golem.
Sparky is heavy enough to push a Golem.