| | | |
| --- | --- | --- |
| | This page/section contains known information about a future update to the game. The content discussed here is not yet in the game. | |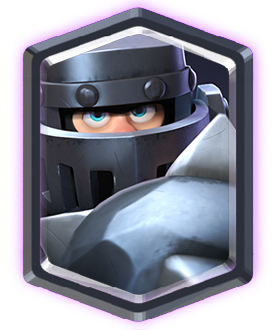 "He lands with the force of 1,000 mustaches, then jumps from one foe to the next dealing huge area damage. Stand aside!"
Summary
The Mega Knight will be unlocked from Hog Mountain (Arena 10) or a Legendary Chest.
He is an area damage, ground, melee troop with very high hitpoints and moderate damage output. He deals spawn damage when he is deployed and jumps to targets that are between 4 and 5 tiles away from him, dealing damage on impact.
A Mega Knight card costs 7 Elixir to deploy.
The Mega Knight wears black armor and a helmet that covers most of his face and wields two mace-like weapons.
Trivia
He and the Electro Wizard are the only troops that deal spawn damage.
The Mega Knight, the Valkyrie, and the Dark Prince are the only melee troops that deal area damage.
Statistics

Please Note: This card's statistics may change before its launch.
| Cost | Hit Speed | Speed | Deploy Time | Range | Jump Range | Target | Count | Transport | Type | Rarity |
| --- | --- | --- | --- | --- | --- | --- | --- | --- | --- | --- |
| 7 | 1.8 sec | Medium (60) | 1 sec | Melee | 4-5 | Ground | x1 | Ground | Troop | Legendary |
| Level | Hitpoints | Area Damage | Spawn Damage | Jump Damage | Damage per second |
| --- | --- | --- | --- | --- | --- |
| 1 | 3,300 | 240 | 480 | 480 | 133 |
| 2 | 3,630 | 264 | 528 | 528 | 146 |
| 3 | 3,993 | 290 | 580 | 580 | 161 |
| 4 | 4,389 | 319 | 638 | 638 | 177 |
| 5 | 4,818 | 350 | 700 | 700 | 194 |