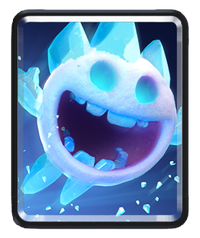 "Spawns one lively little Ice Spirit to freeze a group of enemies. Stay frosty."
Summary
The Ice Spirit is unlocked from the Frozen Peak (Arena 8).
It is an area damage, short-ranged troop with low hitpoints and damage.
An Ice Spirit card costs 1 Elixir to deploy.
Like its counterpart, the Ice Spirit will launch itself at its target when attacking, which kills the Ice Spirit.
The Ice Spirit will temporarily freeze any troops targeted for 1.5 seconds.
Strategy
History
The Ice Spirit card was added to the game on 4/7/16 with the Tournaments Update.
On 1/11/16, a Balance Update decreased the Ice Spirit's freeze duration to 1.5 sec (from 2 sec).
On 23/1/17, a Balance Update decreased the Ice Spirit's damage by 10%.
Trivia
Ad blocker interference detected!
Wikia is a free-to-use site that makes money from advertising. We have a modified experience for viewers using ad blockers

Wikia is not accessible if you've made further modifications. Remove the custom ad blocker rule(s) and the page will load as expected.