| | | |
| --- | --- | --- |
| | This page/section contains known information about a future update to the game. The content discussed here is not yet in the game. | |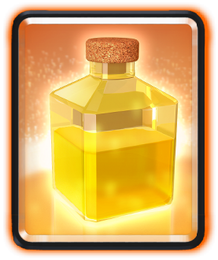 "Heal your troops to keep them in the fight! Friendly troops are healed over time while in the target area. Doesn't affect buildings."
Summary
The Heal is a spell that will be unlocked in Hog Mountain (Arena 10).
As the name suggests, it heals friendly troops.
It costs 3 Elixir to deploy.
Strategy
History
The Heal will be featured in its own Special Event Challenge, the Heal Draft Challenge, which starts on 28/4/17. By achieving 6 wins, a one-time reward will provide the player with Heal cards, with more Heals obtainable at 12 wins as another one-time reward.
The Heal card will be available in

May 1 2017 05:00:00 +0000

.

The Heal card was added to the game on 1/5/2017.
Ad blocker interference detected!
Wikia is a free-to-use site that makes money from advertising. We have a modified experience for viewers using ad blockers

Wikia is not accessible if you've made further modifications. Remove the custom ad blocker rule(s) and the page will load as expected.