| | | |
| --- | --- | --- |
| | This page/section contains known information about a future update to the game. The content discussed here is not yet in the game. | |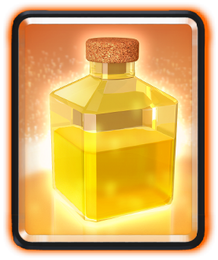 "Heal your troops to keep them in the fight! Friendly troops are healed over time while in the target area. Doesn't affect buildings."
Summary
The Heal is a spell that will be unlocked in Hog Mountain (Arena 10).
As its name suggests, it heals friendly troops.
It costs 3 Elixir to deploy.
Strategy
It can be a positive Elixir trade for the Poison card if your opponent places it down. It nullifies the Poison's effects for the most part as the healing per second of the Heal is greater than the damage per second of the Poison, but at equivalent levels the Poison will do more total damage than the total healing capability of a single Heal, because the duration of the Heal is much shorter than that of the Poison's.
While the Heal has healing capabilities, it does not heal any troops that have been destroyed. In fact, if the troop is eliminated by a particular attack in one hit, the Heal will be incapable of doing anything. For example, you cannot keep Skeletons that are under an enemy Poison alive using a Heal unless the Skeletons are sufficiently leveled such that they do not die in one hit.
Ad blocker interference detected!
Wikia is a free-to-use site that makes money from advertising. We have a modified experience for viewers using ad blockers

Wikia is not accessible if you've made further modifications. Remove the custom ad blocker rule(s) and the page will load as expected.