| | | |
| --- | --- | --- |
| | This page/section contains known information about a future update to the game. The content discussed here is not yet in the game. | |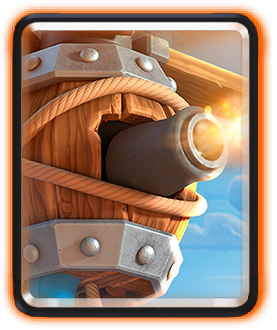 "The Master Builder has sent his first contraption to the Arena! It's a fast and fun flying machine, but fragile!"
Summary
The Flying Machine is unlocked from Jungle Arena (Arena 9).
The Flying Machine is a single-target flying, ranged troop with moderate hitpoints and damage output.
The Flying Machine costs 4 Elixir to deploy.
It appears to be a small turret in a rope-covered barrel with a rotor on top.
Trivia
The Flying Machine has the longest range of any flying troop, firing projectiles 6 tiles far.
The Flying Machine's creator is the Master Builder, a character from the Clash of Clans' Builder Base.
Statistics

Please Note: This card's statistics may change before its launch.
| Cost | Hit Speed | Speed | Deploy Time | Range | Target | Count | Transport | Type | Rarity |
| --- | --- | --- | --- | --- | --- | --- | --- | --- | --- |
| 4 | 1 sec | Fast (90) | 1 sec | 6 | Air & Ground | x1 | Air | Troop | Rare |
| Level | Hitpoints | Damage | Damage per second |
| --- | --- | --- | --- |
| 1 | 290 | 81 | 81 |
| 2 | 319 | 89 | 89 |
| 3 | 350 | 98 | 98 |
| 4 | 385 | 107 | 107 |
| 5 | 423 | 118 | 118 |
| 6 | 464 | 129 | 129 |
| 7 | 510 | 142 | 142 |
| 8 | 559 | 156 | 156 |
| 9 | 614 | 171 | 171 |
| 10 | 675 | 188 | 188 |
| 11 | 742 | 207 | 207 |