Introduction
Hello everyone, I am sharing my version of the Hog Trifecta deck. I have used this deck since I was a little level 6 in Arena 6 to get to 3000 trophies as a level 8 with just 281 wins. The deck revolves around a fast cycle, with no cards above a 5-elixir cost. However, the cards require very strategic usage in order to be effective and gain an elixir advantage to sneak a Hog Rider to the tower.
Deck Information
Page Created by: BattlerMaster
Minimum Recommended King Level: 6
Maximum Recommended King Level: 11
Arena Required: Builder's Workshop
Average Elixir Cost: 3.1
Card Roles
Hog Rider: A very fast card with high damage and moderate-high hitpoints. Your main win condition. The Hog Rider functions the best with support cards, like the Musketeer or Spear Goblins. With this knowledge, it is also not bad to put in a lone Hog Rider at the start of the match if you have a bad cycle, or want to catch your opponent off-guard. I would recommend putting a starting Hog Rider with no support troops, as you want to play as conservatively as you can at the beginning, since this is mainly a control deck. In the middle stage of the game, a single Hog Rider will not be as effective, as they will quickly adapt to find a way to counter your Hog Rider. Start supporting your Hog Rider with other troops. Valkyrie, Musketeer, Fire Spirits, and Spear Goblins all work if they are not your only counter to some of the opponent's cards. Your main goal with the Hog Rider is to find a hole in the opponent's defense, and getting hits on the tower. This card can also function as a last-second defense. It has around the same health as a Knight, so you can use it to aggro Minions, and other melee units, even Elite Barbarians away from your tower. The Hog Rider is a very fast rushing card that goes straight for buildings, making it hard to counter without the right cards and techniques.
Musketeer: A strong ranged attacker that can hit air units. The Musketeer functions almost solely as a support card that transfers into a counter-attack. The best starting move for the Musketeer at the beginning is to place it behind the King Tower, offsetting it to the side you want to push or defend. This helps you build elixir for a strong push. If your opponent fireballs your Musketeer, and it survives, you can place a Valkyrie or a Hog Rider in front of it, forcing your opponent to address the Musketeer or suffer heavy damage. A Musketeer with 1 hitpoint does as much damage as a Musketeer with full health. Another strong starting position for the Musketeer is in the middle of your side of the arena, again offsetting it to the side you want to push. This gives your opponent little time to fireball it, and lets you defend both sides simultaneously. In the middle and late game, a Musketeer behind your King Tower still works. However, you may have to use it to defend. The Musketeer on defense can shut down a lone Valkyrie, Knight, Mini P.E.K.K.A., Lumberjack, if it is placed in the middle, making the units have to walk further to attack it. She also helps quite a bit on swarms like Minion Horde and Skeleton Army. She will suffer some damage, but survive for a counter-push. Musketeer used solely offensively is a bad move. She is slow, pretty fragile, and will struggle to keep up with the Hog Rider. A better move is to defend with the Musketeer, especially if she is your counter to some of your opponent's troops, then place a Valkyrie or a Hog Rider to counter-attack. The Musketeer is a relatively cheap defensive troop that offers high DPS and moderate hitpoints. She is able to counter most cards in the game one-on-one on your side of the arena, and translates into a powerful counterattack when paired up with a tank to protect her.
Valkyrie: A tanky melee ground unit with a relatively strong splash attack. Valkyrie doesn't fare very well on offense due to her speed, but excels on defense. Starting with the Valkyrie can be justifiable, but not recommended. It may not be a good move to start with her when you don't know your opponent's deck. She may be your only counter to their glass cannons like Musketeer, Witch, Wizard, etc. On defense is where the Valkyrie shines. Due to her tankiness and strong 360 degree splash attack, she works best when placed directly on troops, like the Mini P.E.K.K.A. to minimize the distance she has to walk to attack units. She simultaneously tanks for the troops while killing them. The troops you want to place the Valkyrie directly on are the Musketeer, Witch, Wizard, Electro Wizard, Ice Wizard, Archers, Dart Goblin, Bomber, Princess, Spear Goblins, Skeletons, Goblins, and Guards. For tougher ground melee troops like the Knight or Mini P.E.K.K.A., you'll want to pull the units to the middle, which will lengthen the time it takes for them to reach the tower. It is not worth it to place her to counter tanks, since she does minuscule damage to them. Placing a Valkyrie on the Hog Rider that is already on your tower can help, as it will reduce the damage that it does to your tower. Valkyrie plus Inferno Tower can shut down a lot of Giant combos like Giant-Witch, Giant-Musketeer and Giant-Sparky. The Valkyrie, like the Musketeer, is a solid defensive card that can be turned into a counterpush. Her splash damage and high hitpoints allows her to take out large groups of troops at once whilst tanking for them.
Zap: Zap is a cheap and versatile spell card that has the ability to stun both troops and buildings. It can kill troops with less health than a Goblin. The stun will reset the damage-over-time effect of the Inferno Tower and Inferno Dragon, stop the charging of the Prince and Dark Prince, and reset Sparky's charge attack. Many players counter your Hog Rider with Skeleton Army. Hovering a zap over your Hog Rider and zapping the moment you see the Skeleton Army will kill the skeletons and allow your Hog Rider to deal massive damage to the tower if that is their only counter. Do not zap a full-health Ice Spirit, Princess, or Dart Goblin, as they will not die to the Zap. The Zap will make Goblins and Minions die in one shot to the tower. It nullifies a lot of damage a Goblin Barrel and Minion Horde will do to your tower. Zapping an Inferno Tower will reset its damage, and make it have to take three more seconds to reach full damage again. If you have supporting cards with your Hog Rider, it may give him enough time to kill the Inferno Tower and reach the opponent's Arena Tower. Zap is one of the most versatile cards in the game, being good on both offense and defense. It allows for many high-skill plays that can mean the difference between a defeat and a victory, or clutch a tower at the last second.
Inferno Tower: A single-target damage building with moderately high hitpoints that increases damage over time on one unit. This building does extremely well against tanks like Giant or Golem. However, the Inferno Tower is weak to swarms of units, as its retargeting time is very long, and it struggles to kill small units rapidly. Knowing this, only use this card to counter cards that spawn one single unit. It takes double the time to kill two units, and by that time, the Inferno Tower may have already been killed by the troops. This card is reserved for defense, and defense only. Placing it in the middle will maximize the time it takes for tanks to reach it. By that time, the tank may have already been killed by the tower. After the tank is dead, if it still has health remaining, it may proceed to eliminate the supporting units as well. This gives you a larger elixir advantage, which is crucial in this deck. Inferno Tower is the best tank-killer in the entire game, having high hitpoints, dealing very strong single-target damage, and distracting any unit from reaching the tower.
Fire Spirits: Spawns three fragile, but powerful kamikaze units. Two Fire Spirits deal the equivalent of a Fireball on a tower. They excel as defensive units, working best on killing hordes and dealing high amounts of burst damage for only two elixir. Fire Spirits are high risk, high reward and can provide you with a good elixir advantage, most significant with killing Minion Hordes. Destroying 5 elixir with 2 elixir grants you an instant 3 elixir advantage, which can be used on a Hog Rider to catch your opponent off-guard when they are low on elixir. Fire Spirits paired with an Inferno Tower take care of Giant-Minion combos. If the placement is right, they can completely shut down a Minion Horde without the tower's help. In a pinch, they can do a large amount of damage to a Balloon, denying it from reaching your tower. Fire Spirits with Spear Goblins will prevent a Balloon from attacking your tower. Fire Spirits with Musketeer will completely stop it from even touching your tower with the bomb. The Fire Spirits also do well offensively with the Hog Rider to form a fire bubble, protecting it from small units. Fire Spirits are incredibly high-value. For 2 elixir, they do the same damage as a Fireball, and are more versatile than the Fireball, as they can cycle your deck faster. The Fire Spirits can be used offensively and defensively for more risk, but a higher elixir advantage.
Spear Goblins: Also spawns three fragile units. However, the units spawned are ranged, have more health than Fire Spirits, do less damage, and stay alive until they are killed, dealing chip damage until being picked off by other troops or the tower. They are a cheap support card for the Hog Rider on offense, as they can stay back from splash units, and can keep up with the Hog Rider. Using Spear Goblins as a starting move to cycle your deck is not a bad move. For 2 elixir, it cycles your deck, deals chip damage to the tower if left alone, and lets you spend you elixir while your opponent either has to stay at ten elixir, or counter your Spear Goblins. The multiple units spawned can also be good for pulling melee ground units. Though squishy, the Spear Goblins can delay a Mini P.E.K.K.A. long enough for it to die before touching your tower. It is also an excellent card to chain pull (pull a card to the other side of the arena). The Spear Goblins are weak to splash damage troops and any spell. However, many players do not want to spend 2 elixir to Zap or use The Log on Spear Goblins. This allows you to get a solid 100-500 damage on the tower if they choose to leave it alone. Splitting the Spear Goblins either at the bridge or behind the King Tower also works. Spear Goblins can also shoot over the bridge at a short distance, allowing you to attack a poorly placed defensive building, especially the Inferno Tower, from your side. Spear Goblins are not the strongest units in the game, but allow for some good defensive plays with their distraction value. They are very fast and make a good support card for the Hog Rider. They do a hefty amount of chip damage to the tower if left alone. Even though they do minimal damage, the Spear Goblins can still offer a good elixir advantage.
The Log: Another versatile, 2-elixir spell. The Log deals damage and knocks back ground troops. It can kill any troop weaker than Archers. Unlike the Zap, it cannot be placed anywhere on the Arena. However, it rolls for 11.6 tiles forward, no matter how many troops it kills. This makes it more effective at killing Goblin Barrels and Skeleton Armies. The Log is also the hard counter to the Princess, as it can take her out for a positive elixir trade. Can be used to stun troops long enough for the Hog Rider to reach the tower, or get another shot off. This works especially well if it kills the defending units as well. The Log is capable of killing a Tombstone that is less than half health along with the skeletons that are spawned with it, making it an excellent card for taking out your opponent's Tombstone. It can also be played prematurely as a prediction, or to deny units from being spawned there, as the log spawned is a relatively slow-moving projectile that will damage anything placed in its path. Placing a Hog Rider and a Log immediately after will effectively deny a Skeleton Army long enough for the Hog Rider to get at least one shot onto the tower, assuming there are no other defensive units. An even better outcome is if the opponent places the Skeleton Army right in front of the log, causing the entire army to die and your Hog Rider to do massive damage to the tower if it is left unaddressed. The Log is also a versatile spell. It can be used preemptively as a high-risk, high-reward prediction card. It offers insanely high value on defense as the only 2-elixir card that can knock back troops, even tanks.
Deck Strategy
Early Game
In the early game, you will want to play as passively as possible.
The strategy of the early game is to learn your opponent's deck. Without learning their deck, being aggressive can punish you.
A Giant or Golem push can easily overwhelm you if you are at low elixir. This is why defense over offense is emphasized in the early game.
The absolute best starting move at the beginning is a Musketeer behind the King's Tower. I also like to use Spear Goblins as a starting card to cycle the deck, either splitting them behind the King's Tower, placing them directly on the bridge, or splitting them in the middle at the river. It does make your opponent overreact sometimes.
Starting with a Valkyrie is not advised, as she may be your only counter to your opponent's support troops like Wizard or Witch. If it is absolutely necessary to start a game with a Valkyrie, place it behind the King's Tower and be aggressive with your cards. Without your Valkyrie, it can be hard to defend an enemy push, so the best option is to prevent your opponent's big push from happening on the other lane. Continue to be aggressive until your Valkyrie is back in your cycle.
If you have a starting hand with the Hog Rider, and the rest of the cards are valuable on defense (Fire Spirits, Inferno Tower, Valkyrie, Zap, The Log), it may be best to rush your opponent quickly with a lone Hog Rider. Unless you can guarantee a few more shots onto the tower with a Zap or The Log, do not place any cards to support it. You want to make low-risk plays and defend with positive elixir trades, not attack at any given moment.
When you realize your opponent has a card that can only be hard-countered by one of your cards, keep the card in your hand until they use their card. This is especially important for defending tanks and Hog Rider with your Inferno Tower, along with defending Graveyard with Valkyrie.
After defending your opponent's push, do some quick estimations on how much elixir they spent compared to how much you have spent. If you realize you have an elixir advantage, a Hog Rider backed up by Spear Goblins or Fire Spirits can catch your opponent off-guard with low elixir. A surviving Musketeer or Valkyrie after defending a push can also be used with the Hog Rider.
It is recommended to switch lanes if your opponent is defending a single lane heavily and you haven't damaged either tower significantly. Not switching lanes can punish you greatly during the double elixir period, where unless you're playing against a cycle deck, they will have an advantage.
Mid Game
Once you know at least six of your opponent's cards, switch to a semi-aggressive playstyle. When your opponent plays a Giant at the back, and you know they counter your Hog Rider with Minions, push the other lane with the Hog Rider and Fire Spirits. This will force your opponent to either lose a towre, or spend elixir to defend your push. Since the Fire Spirits protect your Hog Rider against your opponent's Minions and other small troops, they may use troops that were originally meant to support the Giant. This allows you to get a lot of damage on your opponent's tower, and defend against the lone Giant with an Inferno Tower. The single supporting troop can be dealt with using Valkyrie or Spear Goblins.
If you are pushing the same lane as your opponent, it is smart to let them attack you before you go on an offensive attack, as they can turn their defending troops into a strong counterpush that you may not be able to defend against. Play a passive or cycling move, like Musketeer behind the King's Tower or Spear Goblins at the river.
Defend as much as possible, and only attack when necessary. If you lose a tower, it may be worth it to give up some of your defense on your other tower to take your opponent's tower. This may give you a comeback. The exception is when they're attacking your King's Tower. His cannon is very weak, so you will have to defend more if your King's Tower is what your opponent is going for.
During the Mid to Late Game, Musketeer should almost never be placed behind the King's Tower. Instead, place her in the corner of the arena. This separates her from an Inferno Tower you might need to place in the middle.
Late Game
Late game defense is not as important as the early game defense. As double elixir time starts, heavier decks will gain an advantage. This is the time when you should be aggressive. Don't allow your opponent to get a large push. If you are not prepared, it will result in a swift loss.
Sometimes it is smart to push a tower very aggressively. Sometimes it's better to slowly chip it away with your Hog Rider and Musketeer until it is in The Log/Zap range. Aggression can punish you for using too much elixir on an attack, allowing your opponent to have a strong momentum attack or just Elite Barbarians take your tower. However, playing too passively can punish you with a draw instead of a possible win.
Only attempt to The Log and Zap a tower down if it can be killed with two The Logs and two Zaps or less. Any more than that and you are just wasting elixir by mindlessly throwing it at your opponent.
The minimum cycle cost of this deck is 8 elixir, which is fairly low for any deck. Cycling The Logs and Zaps onto an enemy's tower isn't that hard if you are able to defend with low-elixir troops. Be cautious with your spells; using The Log and Zap on a tower when they are needed for an incoming Skeleton Army or Minion Horde can cost you the game.
When your enemy has a large momentum push with a slow troop to tank like Giant or Golem, and the game is in overtime, it may be smarter to just push the other lane harder if you are trying to kill the other lane's tower. Some massive pushes just can't be defended with the cards and elixir you have. It's a do-or-die situation; if you defend, you'll lose. The only way to win is to destroy your opponent's tower before they can destroy yours.
Double Elixir Tips
Most decks will have an advantage over this deck in double elixir time. If you can take a tower early, it is much easier to negate this advantage.
Because elixir generates much faster, it is not as risky to play an aggressive combo such as Hog+Spear Goblins. However, don't commit too much elixir on an offense, because like in regular elixir time, your opponent will counter your cards with cards of similar elixir cost and form a large counterpush.
If you have taken a tower and your opponent tries to play a slow but easy-to-kill card on the side where their tower is down (like a Wizard), neutralizing it (with the Valkyrie) before they can play a supporting card is recommended.
Don't be rushed by the fast-paced gameplay of double elixir time. Keep your gameplay steady and defend like you normally would. The only difference is that you will be placing cards faster on both offense and defense. Being too rushed and spamming cards will get you into a situation where your opponent defends well and forms a massive counterpush where you have no elixir to stop it.
My New Deck
I do not wish to mess up the cards as this has been a successful guide using the same cards for a long time now, but I have found this deck to be more successful in higher arenas:
Hog Rider, Musketeer, Valkyrie, Inferno Tower, Zap, Fire Spirits, Electro Wizard, Freeze
As many decks higher in trophies revolve around a card meta, which typically never sees a cheap cycle deck in play, heavier cards will be required in order to deal with heavier pushes. The all-around cards Spear Goblins and The Log are simply too weak against large beatdown units such as Balloon. Spear Goblins was in the meta for quite a while, but the card has been nerfed. Hog+Fire Spirits and Hog+Spear Goblins pushes are less effective due to the presence of The Log and Zap in many decks.
In this new playstyle, Fire Spirits are only used for cycling the deck and defense against swarms/medium health troops. The Electro Wizard is the new substitute for both defense and counterattack. I also found that using The Log instead of a stronger damage spell made it hard to push for the win during double elixir and sudden death. The Freeze is a cheap alternative, disabling even the biggest defenses to get extra Hog Rider swings on the tower. Many of the tips I list will still be relevant, but keep in mind that every deck will always have a slightly different playstyle. You just have to adapt, both in terms of playing the deck and playing in a specific trophy level.
Keep this in mind as you continue reading my guide.
Deck Match-ups
Like any deck, this deck counters some decks better than others.
Strengths
The original Hog Trifecta and this deck are both overall very good at countering other decks. The Valkyrie, Musketeer, Spear Goblins, and Fire Spirits just counter so many other cards. However, it all depends on your playstyle.
I find it easiest to counter traditional Giant decks, like Giant+Witch, Giant+Poison, Giant+Musketeer. By saving the Inferno Tower and Valkyrie, it basically completely shuts down their Giant combo. Position your units away from each other so they do not get multi-hit by splash troops or area damage spells.
Old Golem decks with the Baby Dragon, Musketeer, etc. are also fairly easy to counter with Inferno Tower and Valkyrie.
If your opponent plays slightly less than average, you will have no trouble shutting down a Lava Hound deck. Most Lava Hound users use a Tombstone, which in most cases is not enough to counter a Hog Rider. Inferno Tower will completely destroy the Lava Hound. If the opponent tries to distract it with Minions or Minion Horde, Fire Spirits will do a clean job of killing them. Against a Lava Hound+Balloon combo, a Musketeer paired with Fire Spirits will deny the Balloon from reaching your tower. Position the Musketeer carefully so she doesn't lock on to the Lava Hound.
This deck works pretty well against a zap bait deck, as Valkyrie, Fire Spirits, The Log, and Zap all do splash damage or hit multiple targets at once. Saving Zap/Fire Spirits/Spear Goblins/Musketeer with tower for Minion Horde, The Log/Valkyrie for Skeleton Army, Fire Spirits/The Log for Goblin Barrel. Most of these are positive elixir trades, and for an offensive push, Hog Rider+Fire Spirits can devastate the tower if your opponent does not have a building in rotation or in their deck.
Weaknesses
When played badly, this deck can punish you greatly. The biggest weakness of this deck is the lack of a counter to the Elixir Collector, so Giant, Lava Hound, Golem and P.E.K.K.A. momentum decks can decimate your towers if you are too aggressive. Let's go over a few deck archetypes that give the opponent a slight deck advantage:
Hog Cycle: Even though our deck plays similarly to a Hog Cycle deck, your opponent will be able to out-cycle you in terms of their Hog Rider and your Inferno Tower. It's even worse if they have an Elixir Collector. To counter this deck well, you will need to play hard defense, not allowing your opponent a Hog Rider hit every single time. When you have multiple surviving units, that is when you'll want to counterpush with the Hog Rider. If your opponent is too aggressive, they can also be punished.
Momentum/Beatdown with Elixir Collector: Due to the lack of a counter to the Elixir Collector, a heavy beatdown deck can easily (no pun intended) beat you. In this situation, you will have to play more strategically, such as being aggressive to deny your opponent from using an Elixir Collector, but not too aggressive to the point where they have a full health Giant and a Graveyard on your tower, and you're at 2 elixir. Some players ignore your Hog Rider and continue with their push. This is worrying. Your Hog will not take the tower by itself, so ignoring a lone Hog Rider can be viable in momentum or beatdown decks. In that case, you will need to be even more strategical. Saving your Inferno Tower and Valkyrie is highly recommended. Never start a push with the Valkyrie; it allows your opponent to place glass cannons down with little to no risk of them being killed.
Royal Giant+Hog: This matchup is quite simple, as you don't have a good tank counter beside the Inferno Tower. You may have to reserve your Inferno Tower for the Royal Giant and use troops against the Hog Rider. If your opponent's deck is expensive, you can out-cycle them and deny both the Royal Giant and Hog Rider. However, they do have quite an advantage over you.
Giant+Hog (Jason deck): Matches up similarly to the Royal Giant Hog deck. You'll find this variation of Giant deck is slightly easier to counter, but you will need nearly perfect Inferno Tower placements to deny both the Giant and Hog Rider from reaching the tower, whilst defending the smaller units with Valkyrie (against Archers, Barbarians) and Fire Spirits (for Minion Hordes or Minions).
P.E.K.K.A. Battle Ram/Bridge Spam: From experience, I find this deck quite weak to P.E.K.K.A. decks utilizing the Inferno Dragon and Battle Ram. My suggestion for countering this deck is to swap Spear Goblins or Musketeer for Electro Wizard (if you have him). Your objective when playing against the bridge spam deck is to out-cycle your opponent and constantly defend against his pushes while making positive elixir trades. When the time is right, pressure the other lane hard with Hog+Spear Goblins or Hog+Fire Spirits. P.E.K.K.A. decks rarely have a building besides the Tombstone, so it will be easy tower damage, and the enemy will most likely be forced to defend with the P.E.K.K.A., giving them a bad trade-off as the P.E.K.K.A. alone is extremely easy to counter.
Deck Synergy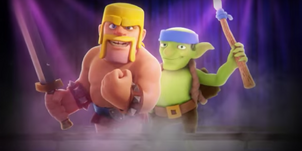 Techniques
Tank and Support: A basic technique where either a tank is placed in front of a support unit, or a support unit is placed behind a tank.
Tanks in this deck: Hog Rider, Valkyrie
Support units in this deck: Musketeer, Spear Goblins, Fire Spirits, Hog Rider (behind a Valkyrie)
Counterattack: A situation where you successfully defend an enemy push, then support your remaining defending units with other units.
Pulling: A defensive strategy that utilizes your cards to lengthen the distance a unit has to travel to reach your tower.
The most simple pull is using Spear Goblins or Musketeer in the middle of the area to defend against any melee ground unit. This pulls the attacking unit into the middle, noticeably extending the distance it needs to travel to reach the tower.
A more advanced pull is the chain pull. It involves doing a simple pull, and then using a second card to make the attacking unit go for the other tower.
Kiting is an interesting technique. It involves taking the aggro of a unit, and running away, causing the attacking unit to chase the defending unit. This can only be done with the Hog Rider and Valkyrie, who can only be used to kite flying units.
A more in-depth explanation can be found here: https://www.youtube.com/watch?v=F5AiL-Avbi4
Prediction: An advanced technique involving predicting your opponent's moves, and preemptively using cards to attempt to counter your opponent's next units. High risk but comes with a high reward.
Good cards for prediction: Zap, The Log, Fire Spirits, Valkyrie (occasionally), Inferno Tower (not recommended but can work), Musketeer (for Princess only)
Pig Push: Another advanced technique where a Hog Rider is pushed by another card while it is at the side of the arena, causing it to jump over the river and bypass certain buildings placed in the middle. Useful for getting the Hog Rider to the tower. Pig pushing even when a building is not placed on the arena as a prediction can bypass some placements of buildings as well. See Orange Juice Gaming's video on pig pushing for more in-depth information. Pig pushing is no longer required to get the Hog Rider to jump over the river. It is good practice to always place your hog in the pig push position.
Troops that can pig push: Spear Goblins, Fire Spirits
It is possible to pig push with the Musketeer and Valkyrie as well; however, the technique is slightly different.
Link to Orange Juice Gaming's video: https://www.youtube.com/watch?v=OCfi9ot9tko
Offensive Combos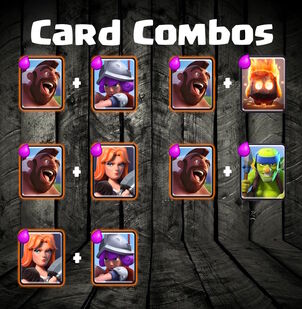 Hog+Musketeer: The Hog Rider and Musketeer are both high damage cards. Pairing them up makes a deadly combo that will decimate the tower if left ignored. The Musketeer will stay behind the Hog Rider, and chip away at any defending buildings or troops placed to counter the Hog Rider. Normally, this combo will be created after defending an enemy push, and units are left over. Placing the two units in rapid succession accomplishes nothing, as the enemy can just push the other lane while you only have 2 elixir. This combo's weakness is the use of a building and a distraction for the Musketeer. For example, Cannon in the middle and Minions placed directly on top of the Musketeer can completely shut down the push. This defensive combo can be countered in a few ways like with Fire Spirits or Zap for the Minions, saving your Musketeer.
Hog+Valkyrie: Hog Rider is a great rushing card, but he lacks the ability to attack troops. If a single Hog Rider is sent in alone, chances are that it will be destroyed quickly and your enemy will have a massive counterpush. This is why we pair the Hog Rider with the Valkyrie. The Valkyrie has more health than the Hog Rider, which makes it a good tank for any defensive units. She also has a powerful 360 degree splash attack, allowing her to kill Skeleton Armies, Goblins and Guards placed to defend the Hog Rider. If left alone, this combo can also decimate the tower. The weakness of the Hog+Valkyrie is air troops, as neither of them can attack air. Fire Spirits will take care of Minions and Minion Horde. Mega Minion is not worth it to expend elixir to kill, but it doesn't do enough damage to prevent damage on your opponent's tower. Alternatively, Fire Spirits paired with Zap can either severely weaken or completely take out a Mega Minion. An interesting thing to note is that if the Hog Rider is directly behind the Valkyrie, its very fast movement speed will push the Valkyrie to the tower as fast as the Hog Rider. This allows it to get one more shot onto the tower, and pressure your opponent more.
Valkyrie+Musketeer: Another strong combo. These two units are slow, allowing for a larger push than with the Hog Rider. If the Valkyrie and/or Musketeer survive after a defense, it may be good to support the remaining units with the other troop. While the Valkyrie is quite low in health compared to large tanks like the Giant, players tend to underestimate her power, as she is very strong for her size. Valkyrie will take care of ground swarms like Skeleton Army, and the Musketeer will take care of air troops. The Valkyrie+Musketeer combo can be used strategically. Sometimes, your opponent will defend with an Inferno Tower. This seems like an elixir advantage for your opponent, but after the Inferno Tower expires, a quick Hog Rider can catch them off guard, where their Inferno Tower is out of their hand. Again, this combo is weak to high-damage distraction troops, like the Minions or Valkyrie (placed on top of Musketeer). Minions and Minion Horde can still be countered by Fire Spirits or a Zap. Zap brings the Minions to one-shot range of the Musketeer, and she will be able to outdamage them and kill them. Valkyrie can't be countered as well. She is the ultimate counter to Musketeer, due to her tankiness. However, if the opponent tries to support the surviving Valkyrie, the Inferno Tower will be able to defend against the Valkyrie and sometimes its supporting units as well, giving you an elixir advantage.
Hog+Fire Spirits: A simple push that involves placing the Hog Rider first, and quickly placing Fire Spirits behind the Hog. Although Fire Spirits are easily countered, they force your opponent to expend more elixir to counter your push, or they will suffer a large amount of damage. Due to the heavy splash damage of the Fire Spirits, they are excellent at protecting the Hog Rider from groups of small troops, like Goblins or Minions. If they try to defend with small troops, the troops will die instantly, giving you an elixir advantage. Your opponent will most likely use a unit to soak up the Fire Spirits' damage, like an Ice Golem. This gives them less elixir to defend the Hog Rider. The Hog+Fire Spirits combo is weak to Inferno Tower and any troops that can soak up and deal a lot of damage, like Prince. The Fire Spirits will just jump into the defending unit, dealing minor damage to it, and the defending unit will proceed to kill the Hog Rider. Inferno Tower can be countered easily with Hog+Fire Spirits and a Zap just before it reaches maximum damage. Zapping a Prince or Mini P.E.K.K.A. may not be as effective, but if timed correctly, can get the Hog Rider another shot onto the tower.
Hog+Spear Goblins: Very similar to Hog+Fire Spirits in placement. However, unlike Fire Spirits, the Spear Goblins don't do a lot of damage. I would recommend that instead of playing the Spear Goblins directly behind the Hog Rider, a pig push should be executed with the Spear Goblins instead. Spear Goblins stay out of melee range, so splash units used for defending against the Hog Rider will not splash onto your supporting troops, whereas it will for Fire Spirits. This can also be seen when attacking a Furnace with the Hog Rider and supporting units. The Spear Goblins can do a lot of damage onto your opponent's tower if they are left alone. If they already do 100-500 damage sent by themselves, imagine the damage they will do with a tank protecting them. Although this combo is less effective than the Hog+Fire Spirits push, it will almost always get chip damage if your opponent has no buildings on their side, as well as pressuring your opponent. There are many times where your opponent will make a misplay because they are forced to react quickly.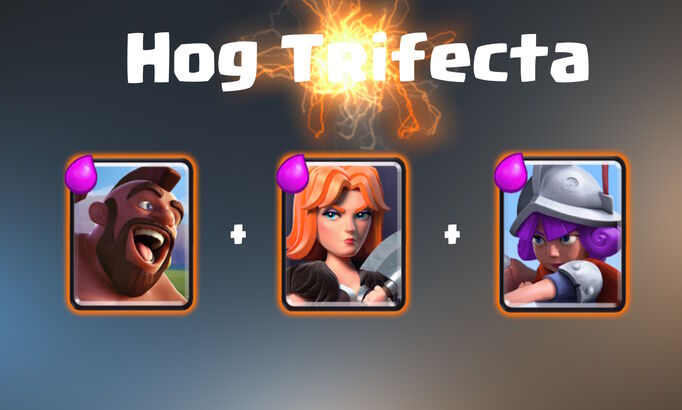 Hog+Valkyrie+Musketeer: The ultimate synergy. Also known as the "trifecta", these three cards is where my deck originated from. The Hog Rider will be your main source of damage, the Valkyrie tanks for the Hog Rider and clears swarms of ground troops, and the Musketeer stays back shooting at both ground and air units, hitting the tower after all defending troops have been cleared. This combination does not require as much explanation compared to the other combos, as it is a high-elixir combo, but relies on raw power to get damage on your opponent's tower rather than strategic placement and thinking. After a defense that grants you an elixir advantage is the optimal time to execute the 12-elixir push. The combo's main weakness is Minion Horde. The Minions shred the Musketeer into pieces and proceed to kill the Valkyrie and Hog Rider with little resistance. Knowing this, don't be afraid to use Fire Spirits either reactively or proactively to counter your opponent's Minions or Minion Horde. It does cost 2 more elixir, but the payout can also be high. A well-timed Fireball, Lightning, or Rocket can also devastate this entire combo. To prevent this from happening, spread your troops apart or avoid placing too many troops in one area. Overall, the trifecta is very strong in the right hands and is hard to counter without the right cards (*ahem* The Log).
Defensive Combos
Valkyrie+Inferno: This is my favorite anti-tank and support combo. It is also one of the most simple combos. The Inferno Tower is placed in the middle to pull the tank, and Valkyrie is placed on top of the supporting units. The combo counters most tank and support combinations, like Giant+Musketeer, Royal Giant+Witch, Golem+Archers etc. If they Zap your Inferno Tower and it still has half remaining hitpoints, you can ignore the tank attacking the Inferno Tower unless it is a P.E.K.K.A. If they Lightning your Inferno Tower, you can use Musketeer, Fire Spirits, and Spear Goblins to clean up the tank. Valkyrie will also run back to attack the tank once the support unit(s) is killed.
Valkyrie+Musketeer: Useful when your Inferno Tower is out of your card rotation. Since both cards are high-damage, they can take care of tanks fairly quickly and translate into a counterattack with the Hog Rider. You can afford a few Giant or Golem hits on your tower if you have remaining units for a counterpush. I like to use Musketeer on the tank and Valkyrie for the supporting units. A nice bonus to using the Valkyrie+Musketeer is that you cycle faster to your Inferno Tower to prepare for another tank push from the opponent.
Musketeer+Inferno: If your Valkyrie is out of rotation, use the Musketeer instead! Place the Inferno Tower in the middle, and Musketeer on the very edge of the side that you are attacking. This will spread apart your defensive units so they don't all get killed by a Poison or Lightning. Musketeer is especially good in place of the Valkyrie when your opponent uses air units; in this case, Place your Inferno Tower 3 tiles from the defending Arena Tower and 3/4 tiles from the river. The Inferno placement will pull the tank (only if it's defense-targeting) but not pull the air unit. The Musketeer is very good at taking out Mega Minions, Minions, and Baby Dragons, so splitting the air units from the supporting units is essential to get her to attack the right troop. Against a Giant-Balloon combo, you can use a Musketeer+Spear Goblins or Musketeer+Fire Spirits combo so the Balloon does not reach the tower. You should be pulling it with an Inferno Tower.
Valkyrie+Fire Spirits: A situational combination, but useful. Valkyrie and Fire Spirits will shut down Elite Barbarians if the Valkyrie is placed in the middle. Sometimes, it will survive for a counterattack. Valkyrie+Fire Spirits also works well against Barbarians, if you want to preserve your Valkyrie for a push. The Fire Spirits can also protect the Valkyrie against Minions and Minion Horde your opponent may send to kill your Valkyrie. I also like to use Valkyrie to tank for Minion Horde if Fire Spirits is next in rotation.
Log+Fire Spirits: The new Zap+Fire Spirits. Both the Log and Fire Spirits deal a decent chunk of damage to units. If timed correctly, this combo can completely take out Three Musketeers for a positive elixir trade of +5 elixir. If the Fire Spirits are placed directly in the middle, slightly in the other lane, they can bring Elite Barbarians into the kill zone, where a The Log will weaken the Elite Barbarians enough for the tower to finish it off and take no damage. Also quite useful for killing Barbarians straight up. Another situational combo, but deadly.
Obtaining and Leveling Cards
Some of the cards in this deck may be harder to get and level up than others. Please note that none of these cards have to be overleveled in order to use them, however adapting your card levels based on your trophy range is recommended.
Hog Rider: Unlocks in P.E.K.K.A.'s Playhouse. Since it is a Rare card, it will be harder to get than Common cards, but the Hog Rider is fairly easy to obtain just from opening free chests and can be requested regularly.
Musketeer: Unlocks in Training Camp. Similar to the Hog Rider, however she is already unlocked at the beginning of the game, so she is leveled up quite a bit over time.
Valkyrie: Unlocks in Goblin Stadium. Easy to level up and easy to obtain.
Zap: Unlocks in Spell Valley. Slightly harder to get as Zap unlocks in Arena 5, however it is a Common card.
Inferno Tower: Unlocks in P.E.K.K.A.'s Playhouse. Same as Hog Rider.
Fire Spirits: Unlocks in Spell Valley. Same as Zap.
Spear Goblins: Unlocks in Goblin Stadium. Very easy to obtain and level up, as it may be one of the first cards you unlock in Arena 1.
The Log: Unlocks in Builder's Workshop. The hardest card to obtain. If you have it, use it. However, this deck works well even if you don't have The Log. Just replace it with an easier-to-obtain spell that plays similarly to the Log.
If you are missing a card, the section below will help you find a replacement.
Side note: Overleveling and Underleveling Cards
All of the cards in this deck work well at most levels; however, some are more level-dependent than others.
Elite Barbarians that are three levels higher than the Hog Rider can fully shut him down if placed correctly (one tile in front of the tower, fast reactions).
A Rocket two levels higher than the Hog Rider will one shot him.
The Musketeer will survive a Fireball of the same level with a sliver of health. If the Fireball is one level higher, it will die to a Fireball.
The Dark Prince takes four shots to kill a Musketeer, or one charge hit and two regular hits. This allows the Musketeer to fully counter a lone Dark Prince on your side of the arena and survive. However, she will die in just three shots if she is 2 levels higher or less. Dark Prince now takes three regular attacks, or one charge shot and one regular strike, to kill a Musketeer 3 levels higher than it.
A heavily overleveled Bomber (3 or 4 levels higher) or Wizard (2 levels higher) will just two shot a Musketeer.
The Musketeer can one shot Minions that are one level higher or less. The same applies for Ice Spirit.
For example: A level 7 Musketeer takes two shots to kill a level 9 Minion, but only one shot to kill a level 8 Minion.
The Valkyrie will die to a Rocket three levels higher than it.
Fire Spirits will be one shot by Minions that are one level higher or more than the Fire Spirits.
Spear Goblins can one shot Skeletons that two levels or less lower than them.
Zap will one shot Goblins that are one level lower than the Zap itself. This applies to Goblins spawned from the Goblin Barrel as well.
The Log will not kill a Princess that is two levels higher than it.
Card Alternatives
Hog Rider
The Hog Rider is unique in the fact that it can rush to the tower and nearly destroy it if left alone, for only 4 elixir. I don't recommend substituting a card for the Hog Rider. However, high-DPS rusher cards include the Prince, Mini P.E.K.K.A., Lumberjack, Elite Barbarians, and sometimes Battle Ram. The Royal Giant may work under some circumstances. These cards do function in different ways, and the Hog Rider will be your best choice in this deck.
Musketeer
Musketeer, like the Hog Rider, is unique in this deck. It is not recommended to switch her out for another card. However, if it is really necessary, the Wizard, Electro Wizard, Ice Wizard, and Witch all function similarly to the Musketeer. These cards do not offer the same value as the Musketeer but are played like her.
Valkyrie
Valkyrie is also part of the trifecta, but she allows for a little more versatility in substituting cards for her. Ice Golem, Knight, Mini P.E.K.K.A., Lumberjack, Dark Prince, and Baby Dragon make decent replacements for the Valkyrie.
Zap
Zap has extremely little replacements. The Log is quite good as a substitute. However, this deck uses both cards. Tornado and Arrows can be used. However, there is little reason to not use the Zap. Ice Spirit can work in a few instances.
Inferno Tower
Inferno Tower is used to kill tanks and to distract building-targeting units like Hog Rider. Cannon, Tombstone, and Tesla can work in place of the Inferno Tower, although none of them are as tanky as the Inferno Tower.
Fire Spirits
Fire Spirits are unique in this deck, but any high-damage and air-attacking splash attackers can be a substitute.
Spear Goblins
Goblins, Skeleton Army, Tombstone (using two buildings), Lumberjack (seems weird but Lumberjack is strong), Skeletons, Guards, Archers, Ice Spirit, and Minions all work in place of the Spear Goblins. This is the most versatile slot, but switching some cards will change the playstyle of the deck quite a bit. Archers, Tombstone and Guards make the deck more defensive, while Skeletons makes the deck more offensive with a faster cycle.
The Log
Unlike the Zap, this card can be replaced with quite a few different spells. I used Freeze instead of the Log before I received the Log in a free chest. Fireball, Poison, and Tornado work just as well. Using the Tornado, however, will limit your direct damage cards to only the Zap, so it may be hard to finish off towers.
Card Counters
Please note that all these counters are to cards that are sent in alone, and are roughly based on tournament standard cards due to my experience.
Hog Rider
Hog Rider is only used defensively as a last-second tank or to kite enemy troops if you have a bad hand. A Hog Rider can kite any melee troop that is Fast or Very Fast that can target anything. This category includes:
Minions, Minion Horde, Bats, Bandit, Goblins, Miner (if it isn't already attacking something), Dark Prince, Prince, Skeletons, Skeleton Army, Guards, Baby Dragon, Mini P.E.K.K.A., Lumberjack, Elite Barbarians
Musketeer
Musketeer is a solid defensive unit that can counter most cards. With the right placement, she can counter:
Musketeer, Valkyrie, Bandit, Executioner, Sparky, Ice Wizard, Wizard, Witch, Electro Wizard, Princess, Dart Goblin, Lumberjack, Miner, Skeleton Army, Mini P.E.K.K.A., Goblins, Spear Goblins, Skeletons, Minions, Minion Horde, Archers, Guards, Mega Minion, Balloon, Inferno Dragon, Bowler, Knight, Bomber, Fire Spirits, Ice Spirit, Ice Golem, Goblin Gang, Bats
Valkyrie
Valkyrie has more health than a Musketeer, but she is melee and does less DPS than the Musketeer. However, her tankiness does come in handy sometimes. She can counter:
Musketeer, Valkyrie, Barbarians, Bandit, Night Witch, Bomber, Spear Goblins, Minions (on defense, used as tank), Baby Dragon, Mega Minion, Skeletons, Skeleton Army, Goblins, Witch, Wizard, Ice Wizard, Executioner, Dart Goblin, Electro Wizard, Fire Spirits, Ice Spirit, Prince, Dark Prince, Mini P.EK.K.A., Archers, Giant Skeleton, Guards, Bowler, Lumberjack, Princess, Sparky, Miner, Knight, Three Musketeers, Ice Golem, Elite Barbarians, Goblin Gang, Bats
Zap
Zap can only directly counter a few units on defense.
Spear Goblins, Skeletons, Skeleton Army, Bats, Goblins, Minions, Minion Horde (if timed correctly), Fire Spirits, Ice Spirit, Mega Minion
Inferno Tower
Pretty strong against anything that isn't a swarm.
Musketeer, Valkyrie, Executioner, Wizard, Ice Wizard, Mega Minion, Lumberjack, Dart Goblin (if timed correctly), Bowler, Archers, Miner, Sparky, Prince, Dark Prince, Baby Dragon, Balloon, Inferno Dragon, Hog Rider, Bomber, Mini P.E.K.K.A., Ice Spirit, Fire Spirits, Witch, Knight, Ice Golem, Giant, P.E.K.K.A., Giant Skeleton, Golem, Royal Giant (if timed correctly), Lava Hound
Fire Spirits
Good against almost any swarm/group of troops.
Skeletons, Skeleton Army, Bats, Fire Spirits, Goblins, Spear Goblins, Ice Spirit, Minions, Minion Horde, Dart Goblin, Inferno Dragon, Mini P.E.K.K.A., Barbarians, Mega Minion, Archers, Guards, Goblin Gang
Spear Goblins
The distraction value on this card is very high.
Skeletons, Skeleton Army, Fire Spirits (planted directly on top), Ice Spirit, Mini P.E.K.K.A., Bats, Musketeer, Valkyrie, Prince (very precise placement), Minions, Minion Horde, Knight, Guards, Archers, Goblins, Mega Minion, Dart Goblin
The Log
The Log is not normally used for directly countering troops, rather as a utility spell that knocks troops back to stall them longer. However, The Log can prove useful in some situations for shutting down certain cards:
Goblins, Spear Goblins, Princess, Dart Goblin, Skeleton Army, Archers (precise timing required), Guards, Ice Spirit, Fire Spirits, Bomber
Clash Royale Terms
I use some weird phrases or words that newer players may not understand. I'll go over a few of them:
Aggro - Short for aggravate/aggravation. Same meaning as pull.
Counterpush - A Clash Royale term for "counterattack". Refers to defending an opponent's push, and retaliating with a push, commonly using surviving defending units.
Cycle (noun) - The card rotation.
Cycle (verb) - To use cards for the purpose of making cards that are out of rotation go in the hand. Mainly done with cheap, expendable units such as the Ice Spirit or Skeletons.
Hand - The four cards that can be played at any moment. Placing a card uses it and removes it from your hand.
Positive Elixir Trade - A situation where you spend less elixir than your opponents on a defense or for killing units with spells.
Pull - To make an enemy unit target onto a unit and move towards it.
Push - To use a unit or multiple units to attempt to either damage or destroy the opponent's tower.
Rotation - The order the cards are sent into your hand. Also used as a synonym for "hand" (see above).
Starting Hand - The four cards that are in your hand at the beginning of a match, when no cards have been played.
Conclusion
This deck is an interesting topic to write a guide on. It originated from a Giant deck involving the Giant, Musketeer, Valkyrie, and Archers. I slowly changed the deck to better suit my playstyle, and it's turned into what I think is the best-engineered deck for my playstyle (versatility). The deck has no linear way to play, and I'd like to see how others use this deck. Remember - it's not about the cards, it's how you play them.
I recently started a YouTube channel, and I've been posting some Clash Royale videos. If you have the time to check it out, here's the link: https://www.youtube.com/channel/UCL4aR-uSsyxyq7Z7lAPwewA
If you had the patience to read through my entire guide (or you were just bored), then congratulations! You get nothing except the knowledge on how to play my deck. If you guys have any videos you'd like to share of you trying to use a similar deck, I'd love to see it. Thanks for reading, and good luck with your future endeavors.