| | | |
| --- | --- | --- |
| | This page/section contains known information about a future update to the game. The content discussed here is not yet in the game. | |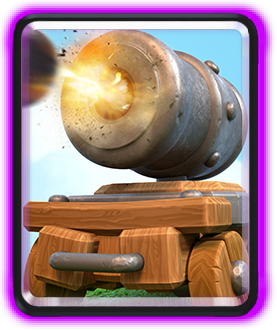 "A Cannon on wheels?! Bet they won't see that coming! Once you break its shield, it becomes a Cannon not on wheels."
Summary
The Cannon Cart is unlocked from Hog Mountain (Arena 10).
The Cannon Cart is a single-target, medium-ranged troop with moderate hitpoints and damage output.
Half of its health comes from the cart that carries the Cannon, and the other half is the actual Cannon's health. When the cart breaks, the Cannon Cart loses its wheels and becomes a stationary turret.
The Cannon Cart costs 5 Elixir to deploy.
Statistics

Please Note: This card's statistics may change before its launch.
| Cost | Hit Speed | Speed | Deploy Time | Range | Target | Count | Transport | Type | Rarity |
| --- | --- | --- | --- | --- | --- | --- | --- | --- | --- |
| 5 | 1.2 sec | Fast (90) | 1 sec | 5.5 | Ground | x1 | Ground | Troop | Epic |
| Level | Hitpoints | Damage | Damage per second | Shield Hitpoints |
| --- | --- | --- | --- | --- |
| 1 | 524 | 153 | 127 | 524 |
| 2 | 576 | 168 | 140 | 576 |
| 3 | 634 | 185 | 154 | 634 |
| 4 | 696 | 203 | 169 | 696 |
| 5 | 765 | 223 | 185 | 765 |
| 6 | 838 | 244 | 203 | 838 |
| 7 | 922 | 269 | 224 | 922 |
| 8 | 1,011 | 295 | 245 | 1,011 |