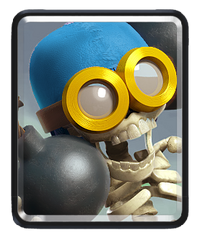 "Small, lightly protected skeleton that throws bombs. Deals damage that can wipe out a swarm of enemies."
Summary
The Bomber is unlocked from the Training Camp (Tutorial).
It is an area damage, medium-ranged troop with low hitpoints and moderate damage.
A Bomber card costs 3 Elixir to deploy.
The Bomber is a skeleton that carries a black bomb and wears a cap with golden-rimmed pilots' goggles.
Strategy
History
The Bomber was released with Clash Royale's soft launch on 4/1/16.
On 2/2/16, the February 2016 Update increased the Bomber's hit speed to 1.9 sec (from 2 sec).
On 3/5/16, the May 2016 Update fixed the "range bug" and decreased the Bomber's range to 4.5 (from 5) but its effective range is unchanged.
On 18/5/16, a Balance Update increased the Bomber's damage by 10%.
On 4/7/16, the Tournaments Update increased the Bomber's damage by 9%.
On 19/9/16, a Balance Update decreased the Bomber's hitpoints by 2% and increased its damage by 2%. This resolved a minor issue where Goblins couldn't kill an equal level Bomber in 3 hits at some levels, e.g. Level 7.
On 15/12/16, a Balance Update increased the Bomber's damage by 4%. This lets the Bomber one shot equally leveled Archers.
Trivia
It is one of the 11 cards associated with Skeletons, including the Skeletons, Skeleton Army, Witch, Tombstone, Bomb Tower, Giant Skeleton, Balloon, Skeleton Barrel, Guards, and Graveyard.
One of the loading screen hints states, "One day, Wall Breakers realized that they could do a lot more damage if they THREW the bomb rather than sat beside it. Imagine that..." This is an allusion to Clash of Clans, as Wall Breakers sacrifice themselves to destroy walls, while Bombers throw explosives from a distance, out of harm. Also, the bomb he carries is similar to the Wall Breaker's bomb.
The Bomber is tied with the Sparky for the shortest ranged ground troop with a 4.5 tile range. They are also the only ranged troops in the game that cannot target air.
The Bomber is one of the five troop cards that inspired a troop in Clash of Clans, along with the Miner, the Baby Dragon, the Ice Wizard, and the Night Witch.
Statistics

| Cost | Hit Speed | Speed | Deploy Time | Range | Target | Count | Transport | Type | Rarity |
| --- | --- | --- | --- | --- | --- | --- | --- | --- | --- |
| 3 | 1.9 sec | Medium (60) | 1 sec | 4.5 | Ground | x1 | Ground | Troop | Common |
| Level | Hitpoints | Area Damage | Damage per second |
| --- | --- | --- | --- |
| 1 | 147 | 128 | 67 |
| 2 | 161 | 140 | 73 |
| 3 | 177 | 154 | 81 |
| 4 | 195 | 170 | 89 |
| 5 | 214 | 186 | 97 |
| 6 | 235 | 204 | 107 |
| 7 | 258 | 225 | 118 |
| 8 | 283 | 247 | 130 |
| 9 | 311 | 271 | 142 |
| 10 | 342 | 298 | 156 |
| 11 | 376 | 327 | 172 |
| 12 | 413 | 359 | 188 |
| 13 | 454 | 395 | 207 |