| | | |
| --- | --- | --- |
| | This page/section contains known information about a future update to the game. The content discussed here is not yet in the game. | |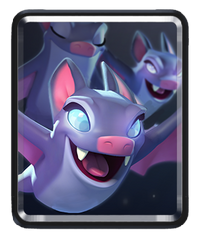 "Five tiny flying creatures with big ears. Having big ears doesn't mean they'll listen when asked to stop attacking you."
Summary
Bats will be unlockable from Frozen Peak (Arena 8).
It spawns five single-target, melee Bats with very low hitpoints and damage.
They are the same as those spawned by the Night Witch.
It costs 2 Elixir to deploy.
Strategy
Trivia
Bats have the same stats as Skeletons of equal level except they fly, they target air, and have a very fast move speed.
Bats and Balloon are the only 2 flying troops with a melee attack range.
The Night Witch summons Bats that are identical to the ones spawned here.
When the card was first announced, there was a mistake in the description stating there were "Four" bats instead of five, and many got confused as the count statistic stated the correct "5". The mistake was quickly fixed and the description was changed to "Five".
Statistics

Please Note: This card's statistics may change before its launch.
| Cost | Hit Speed | Speed | Deploy Time | Range | Target | Count | Transport | Type | Rarity |
| --- | --- | --- | --- | --- | --- | --- | --- | --- | --- |
| 2 | 1 sec | Very Fast (120) | 1 sec | Melee | Air & Ground | x5 | Air | Troop | Common |
| Level | Hitpoints | Damage | Damage per second |
| --- | --- | --- | --- |
| 1 | 32 | 32 | 32 |
| 2 | 35 | 35 | 35 |
| 3 | 38 | 38 | 38 |
| 4 | 42 | 42 | 42 |
| 5 | 46 | 46 | 46 |
| 6 | 51 | 51 | 51 |
| 7 | 56 | 56 | 56 |
| 8 | 61 | 61 | 61 |
| 9 | 67 | 67 | 67 |
| 10 | 74 | 74 | 74 |
| 11 | 81 | 81 | 81 |
| 12 | 89 | 89 | 89 |
| 13 | 98 | 98 | 98 |